Spinach didn't make it back into my diet until about ten years ago when I learned that there was more to this vegetable than the stringy, processed, canned version Popeye raved about. The one time we had a cartoon character pitching healthy foods and it had to be canned. Me thinks Popeye was a just well drawn spokesman by the folks at Del Monte. Looking more like lake weeds washed up on my plate, spinach did not attract my young eyes. Then my nose got involved. The canned spinach smell was so strong that I could taste it before I tasted it. I gulped tiny bites down with large amounts of milk, much like swallowing an iron pill. I would not consider it again for many years, until I realized that fresh spinach is like a completely different food before processing pirates get their hands on it.
This isn't any news to you longtime spinach lovers, it's more a lesson in how to introduce foods, real foods, to young ones, who have very sensitive palates, and to us old sensory-scarred types.
Armed with fresh spinach from the farm folks, I looked to incorporate it within the foods already on the foods-we-won't-object-to list which led me to another fine recipe from a cookbook I use often for fresh, fast, healthy meals- South Beach Diet. I have three cookbooks from this team of cooks who are not renowned restaurant chefs or cooking show hosts, but plunk out a stack of recipes that taste good every time and without much fuss.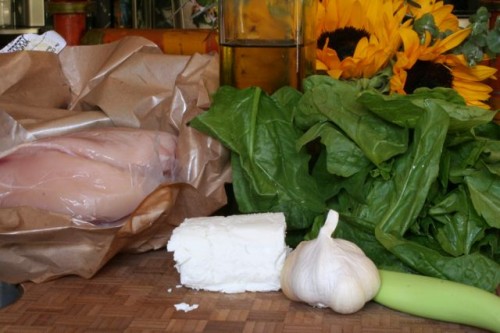 Without much fuss, because this dish uses just a few ingredients that are either packed with nutrition – thank you spinach and garlic – or packed with intense flavor – thank you goat cheese and garlic.
When you cook spinachyou're gonna have shrinkage. This big bunch sautees down in minutes to a manageable portion for stuffing the chicken. I cut a 'pocket' into skinless, boneless chicken breasts leaving about 1/2-1 inch from the edge.
I filled the pockets with goat cheese first and then spinach to prevent the cheese from melting out of the chicken during the cooking process.
Then, I sealed the chicken pockets with two toothpicks each and browned brown them before finishing the cooking in the oven.
When it came time to serving the dish, much like a fast food marketer, I pitched the food to my kids with few words about iron and nutrients and more words about growing tall – something that is in both their interests right now because my son wants to continue to be the tallest in his class and my teenage daughter is trying eek out any growth before her body tells her "we've reached your adult height."
I also appealed to their sense of adventure to try something new. I asked them to give me their opinion so I could include it in this post – this got them involved; they were now vested in the dinner. While this all seems like a lot of effort just to get the kids to eat spinach, it was laying the groundwork for future meals.
I can report that almost to my surprise, the kids ate the food without issue and then offered a few compliments. "It tastes good," was even uttered – words, no morsels, I cling to.
[recipe]
chicken breast stuffed with spinach & goat cheese
PrepTime 10 minutes
CookTime 10 minutes
4 chicken breasts – boneless, skinless
1 bunch spinach – chopped
2-3 oz goat cheese
2 garlic cloves
2 T olive oil
s&p to taste
Preheat oven to 400°.
Heat 1 tablespoon of the oil in an ovenproof skillet that will fit in your oven. Add garlic and cook about 30 seconds and then add spinach. Cook spinach, stirring constantly, for about two minutes and remove it from the stove. Season the mixture and transfer to a plate. Wipe out the pan.
Beginning with the thickest part of the breast, insert a knife and cut a pocket leaving a 1″ border along three sides. Repeat with each breast. You may season inside the pocket. Fill each pocket with goat cheese first, then spinach. Secure breast opening with toothpicks.
Heat the remaining oil in the skillet over med-high heat. Brown each breast about 3 minutes each side. Place pan in the oven and bake for about 8 minutes. To test for doneness, pierce the chicken and if clear juices run out the chicken is done. Serve warm.
this recipe modified from south beach diet quick and easy cookbook and provided by your friends at crunchtimefood.com