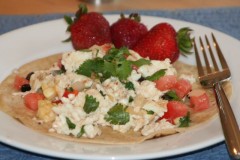 1. Egg White Tostada
Egg white tostadas are only easy when you're using ingredients that are readily available in your kitchen, which most likely occurs when you have remaining items from another meal, or if you live in Southwestern states and can't help yourself at the farmer's market when you see Latin produce aplenty.
Because I'm shamefully thrifty with time, I pieced together this tostada with corn leftover from corn on the cob (they don't know), black beans (from the cupboard) and other ingredients from the refrigerator that were meant for a different meal. Other options include tomato, peppers, chorizo, avocado, frozen corn kernels.
2. Poached Egg White Cups
At least once a week, I make some microwave egg white concoction with any ready-chopped vegetable and a pinch of grated cheese, but spinach is my favorite mix-in because I find it to be one of the simplest ways to get spinach into my diet.
With a rough chop of spinach leaves, a sprinkle of mozzarella, egg whites from a carton, salt & pepper and two minutes of microwave effort, you get a freshly cooked, hearty breakfast and just one timid plastic container for clean-up. And these babies travel in a paper towel. You're kids might be grossed out when you bring cooked egg in the car, but tell them your grossed out when they eat high fructose corn syrup. What?
3. Scrambled Eggs Marinara
I was inspired to make this creamy egg dish that we were served in San Francisco at Boulette Larder, but in a way my own kitchen, my time, and my limited talents could handle. As I've remarked in previous posts, eggs are just a vessel, similar to pasta, rice, tortillas and the like, for presenting complimentary foodstuffs.
Marinara and burrata cheese (or buffalo mozzarella) is perhaps more at home on a pasta, but why not on eggs. And even eggs, perhaps more at home for breakfast, but why not for lunch or dinner.
Burrata is a rather elusive mozzarella that's made with cream injected into it's center. I wouldn't suggest or even think it's necessary to use burrata when buffalo mozzarella is fine, but I was trying it out because it seemed exotic and I was delusional to think there was something healthy about a white cheese with butterfat cream at its core.
Scramble eggs in the Alice Waters way. Heat the marinara sauce and if the cheese is still cool, warm it on low power in the microwave just to get it to room temperature. The heat of the foods will warm it further. Assemble and eat.
4. Vegetable Frittata
You say tomato, I say frittata. And frittata is just another way to say, I'm too tired to flip my omelette. Because the husband doesn't love the micro eggs which I'm guessing is a texture thing, I offer the same idea, but using stove-top and then the oven.
Saute any chopped vegetables of choice, 2 minutes tops. Pour in egg whites, or if you desire stirred whole eggs, cover and let cook for a few minutes until its mostly set. Top with a smattering of your favorite cheese, or not, and broil for a few minutes until slightly browned. Slice and serve.
There you have it. No eggs-cuse now for skipping breakfast, especially one loaded with protein power and your first serving of vegetables for the day.