Mother's Day has never been about being a mother to me. Sure, I relish in the eggy brunch, the greeting cards adorned with x's and o's, fragrant flower arrangements, and handmade macaroni necklaces as much as any mom, but the day has always been more about being a daughter. I can remember many Mother's Days I've celebrated for my mom yet, rarely can tell you about any Father's Days. Maybe that's because, as we like to tease my husband, every day is father's day, and only one day is set aside to recognize the one person who spends the other days recognizing and celebrating us.
This Sunday will be my fourth Mother's Day since my mom passed away. This is not meant to be sad because my mom taught me – in addition to how to fold a fitted sheet and the secret to a flaky piecrust and that church laughter can happen outside of church – she taught me to accept hardships and pain because they are as much about life as the triumphs and happiness. Everydayshe showed us by example how to find the positive in any circumstance and let me tell you, she was dealt the mother of a circumstance that tested all her convictions. She died from one of the harshest illnesses around – ALS. Throughout her brave embrace of this fatal illness for which there is no cure, one morning stands out. When my mom, wheelchair bound, not able to speak or eat for over a year, and after a hard night of all things the flu, she wheeled out of that bedroom with a big smile on her face and applauded the sunny day. Sunshine was the positive she found in that moment where others might have found despair.
Really, there's no room for maudlin thoughts on Mother's Day because my mom was full of fun, zany in a Lucille Ball way, a grand cheerleader for all, and as my Uncle Dale would say "she was the glue that kept this family together." Her lesson in family unity endured and now well over one hundred of us gather each year from across the country for a family reunion in South Bend, Indiana. We play baseball, tell stories all at the same time shouting over one another, we laugh, and then we laugh some more. And this reunion, like most in the Midwest, kicks off with a buffet of the creamiest, nastiest, cheesiest, deliciously sinful casseroles. But there's one that's talked about to this day – "Your" Mom's Macaroni & Cheese. Not to overshadow Aunt Ruthe's chicken noodles or Cousin Cindi's mashed potato casserole, both prizes in their own right, but my mom's macaroni & cheese was legendary and often center stage on the carbo-tastic spread. We've missed that cheesy dish (talking about the mac&cheese here) that she perfected added more cheese to through the years and we've missed the cackle of her laughter and her voice that screeched above the rest of a very loud family. Cousin Susie, who graciously prepares the mac & cheese every year, based on my mom's recipe, feels she hasn't quite matched it, although I would argue that it is delicious and worthy of every calorie. But, I set out to see if I could in fact recreate the baked mac & cheese like my mom's. After comparing notes, reading through my mom's recipe vault, conferring with my dad, and the Creamettes box, I believe I've nailed it. So, family and friends here is the very best baked macaroni and cheese on the planet. It's not our usual crunchtime fare where we avoid processed foods and cholesterol-laden ingredients and rely on recipes that can be made in a jif – but this worthwhile break from our nutrition regimen for Mother's Day is here to celebrate our moms who taught us to appreciate the good in life, home cooking, laughter, and sunshine.
Happy Mother's Day to all our mom heros! Now, get cheesy. For everyone who makes this mac & cheese and sends me a photo of you with it, I will donate $10 to ALS.
The key to this recipe is cheese – sharp and extra sharp cheese and then more cheese. Get the best you can find and grate it yourself. The rest of the recipe is essentially from the Creamette's small elbow macaroni box.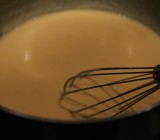 Mom's Mac & Cheese starts with a roux to which you add milk, then cheese, then cooked macaroni. The entire batch goes into a baking dish and topped with more…yep, cheese. So easy. But please add something with it that's grown from the dirt to keep your body ticking.
BTW – the secret to a flaky crust is…make sure the morsels of crisco/butter remain a firm cold from the moment it's cut into the flour and before it's popped into the oven.
mom's macaroni & cheese – best on the planet (and the mac&cheese isn't bad either)
preptime 20 minutes serves 6-8
baketime 20-25 minutes
2 c small elbow macaroni noodles (perhaps from your Mother's Day necklace)
2 T butter
2 T white flour
1 t dry mustard
1 t salt
2 1/2 c milk (2% at least)
1 3/4 c grated extra sharp cheddar cheese
1 3/4 c grated sharp cheddar cheese
Note: buy good quality cheese at grate it yourself. I used my food processor to grate it.
Cook macaroni noodles in a large pot of salted water for 7-8 minutes and drain. Do not add oil to the water otherwise the sauce will not stick to the noodles as well.
While the noodles cook, measure and mix your dry ingredients (flour, mustard and salt) and measure out your milk so they're ready to add in for the next steps.
Wipe out the pot and add the butter to it. Melt butter over medium heat.
Add dry ingredients and stir. Cook for a few seconds until bubbly.
Begin to add the milk to the flour slowly, and whisking all the while to blend it. I would add in fourths and then let it thicken slightly and then add another fourth of the milk.
After all the milk has been added and the sauce is slightly thickened, remove the pan from the burner.
Add in 3 cups of the cheese, leaving 1/2 cup for the topping. Stir until the cheese is blended in completely.
Add in the drained macaroni noodles.
In a buttered 2-quart baking dish, pour in the macaroni and cheese mixture.
Top with the remaining grated cheese.
Bake at 375° for 20-25 minutes.
recipe provided by your friends at crunchtimefood.com