After returning from summer camp, Griffin declared June is like Friday, July is Saturday and August is ..Sunday (sigh, pout). Summer's not over and August is no school night, dude. With that I declared – confident I am the most fun mom on the planet – it's barbecue week. Wait, he didn't expect whitewater rafting and espionage games did he? He did. Sullen but hungry, he devoured Chicago-style char dogs, ate grilled pizza, tolerated cedar-smoked salmon, and gagged over grilled branzino – note to parents serving whole fish: cut the heads off not in front of children. I didn't dare sock him in the kisser with a turkey burger enhanced by all the genius ideas of America's Test Kitchen – that would be for Dan and me.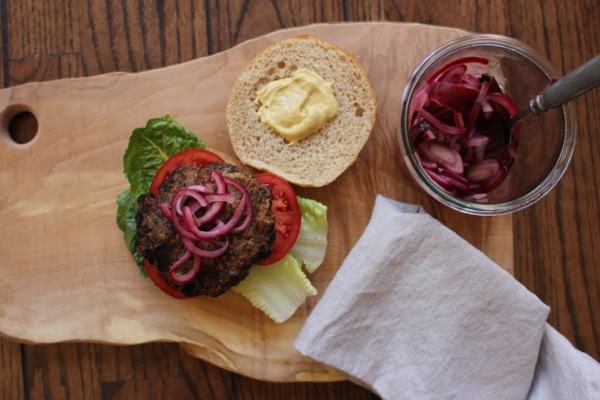 America's Test Kitchen is my favorite cooking show. It has the production quality of Dobey Gillis, hosted by Chris Kimball who is my superior nerd in every way, supplemented with a team of elder cooks and scientists who crack the code on authentic kitchen challenges – none of this can you make a taco with what's in our basket say, an egg, tapioca pudding, nettles and a bow & arrow? What they don't spend on production, they spend on testing and retesting. Every recipe turns out perfectly – just ask my family about last year's Thanksgiving stuffing.
The secret to succulent, juicy turkey or chicken burgers is five-fold. Serving it with pickled onionsis the capper. Follow these directions and you will have your minds blown or at very least, happy to make a delicious burger. It's also a wonder for guests.
Secret #1 – Mushrooms blended with turkey meat locks in moisture andadds the umami punch missing in bland poultry.
Secret #2 Use thigh meat which has deeper flavor. Chop in your own food processor for better control or buy pre-ground to save time. Your choice.
Secret #3 – Add chicken broth thickened by powdered gelatin for binding and another moisture locking-in agent.
Secret #4 Puree a portion of ground turkey with mushrooms and gelatin to a near pâté.
Mix nearpâté into remaining ground turkey with your hands. Season.
Secret #5 form patties with a slight divot in the middle to prevent bulging during grilling.
Guys, these burgers are worth the trouble and really no trouble at all. It all happens in a food processor and grill for easy cleanup.
So you know, ping pong tournaments, movies, this camp, bike rides along the ocean, hikes, pool parties, roasting marshmallows, and late night hours have assured Griffin that summer isn't over by a long shot. Let's get grilling!
turkey burger – juicy beyond belief
Preptime – 45 minutes active time, 1.5 hours total
1(2-pound) bone-in turkey thigh, skinned, boned, trimmed, and cut into 1/2-inch pieces
1 T unflavored gelatin
3 T low-sodium chicken broth
6 oz. white mushrooms, trimmed
1 T soy sauce
Pinch baking soda
2 T vegetable oil, plus extra for brushing
Kosher salt and pepper
6 large hamburger buns
INSTRUCTIONS
*Place turkey pieces on large plate in single layer. Freeze meat until very firm about 35 to 45 minutes.
Meanwhile, sprinkle gelatin over chicken broth in small bowl and let sit until gelatin softens, about 5 minutes.
Pulse mushrooms in food processor until coarsely chopped, about 7 pulses, stopping and redistributing mushrooms around bowl as needed to ensure even grinding. Set mushrooms aside; do not wash food processor.
Pulse one-third of turkey in food processor until coarsely chopped, 18 to 22 pulses, stopping and redistributing turkey around bowl as needed to ensure even grinding. Transfer meat to large bowl and repeat two more times with remaining turkey.
Return 1/2 cup (about 3 ounces) ground turkey to bowl of food processor along with softened gelatin, soy sauce, and baking soda. Process until smooth, about 2 minutes, scraping down bowl as needed. With processor running, slowly drizzle in oil, about 10 seconds; leave paste in food processor.
Return mushrooms to food processor with paste and pulse to combine, 3 to 5 pulses, stopping and redistributing mixture as needed to ensure even mixing. Transfer mushroom mixture to bowl with ground turkey and use hands to evenly combinee.
With lightly greased hands, divide meat mixture into 4 balls. Flatten into 3/4-inch-thick patties about 5 inches in diameter; press shallow indentation into center of each burger to ensure even cooking. (Shaped patties can be frozen for up to 1 month. Frozen patties can be cooked straight from freezer.
FOR A CHARCOAL GRILL: Open bottom vent completely. Light large chimney starter filled with charcoal briquettes (6 quarts). When top coals are partially covered with ash, pour evenly over half of grill. Set cooking grate in place, cover, and open lid vent completely. Heat grill until hot, about 5 minutes.
FOR A GAS GRILL: Turn all burners to high, cover, and heat grill until hot, about 15 minutes. Leave primary burner on high and turn off other burner(s).
Clean and oil cooking grate. Brush 1 side of patties with oil and season with salt and pepper. Using spatula, flip patties, brush with oil, and season second side. Place burgers over hot part of grill and cook until burgers are well browned on both sides, 4 to 7 minutes per side. (If cooking frozen burgers: After burgers are browned on both sides, transfer to cool side of grill, cover, and continue to cook)
Transfer burgers to plate and let rest for 5 minutes. While burgers rest, grill buns over hot side of grill. Transfer burgers to buns, add desired toppings, and serve.
recipe modified from America's Test Kitchen and provided by your friends at crunchtimefood.com