Nobu Malibu is a coastal restaurant scene for very cool, rich people. We are not those people. But, we are hungry food types who crave what we can't, what we shouldn't, what we mustn't have. And making it all more tempting is that this Nobu is different from the others – (Las Vegas Nobu that would be you). Set in new breathtaking digs with an infinity view of the Pacific, the executive chef Gregorio Stephenson crafts signature, sublime dishes for this location only.
Lunch – daylight, not requiring stilettos I don't own, or the size 0 I've never worn (even as a baby) or the Swiss bank account payout I don't have.
Could it be that a midday meal could deliver all the promise of this west coast gem? Wearing our hippest clothes and beachy wave blow-dries, going for that I'm underdressed on purpose look, we ventured on a late summer day to this destination restaurant. And – oh my god – was it worth it – even for the second mortgage I took out to pay for it. Mini tuna tacos, lobster ceviche on limestone lettuce, and field greens with grilled shiitake mushroom that was to cry for.
The savory salad is simple and yet, utterly rewarding.
I went on a mission to recreate it. After a few attempts and help from the master himself, I think I have it for you.
After trimming the stems, I quartered or halved the mushroom caps into sizable bites – enough to give mushroom prominence, but not so big you have to wrestle it to the ground. They grill ever so nicely. If you don't want to grill, I have other cooking options below.
I trimmed chives into sizable pieces too. I like to know I'm eating chives, not guess at the flavor.
I doubt this is precisely the salad dressing that coats NM's field greens & shiitakes, but ours comes from Nobu's cookbook and it works. Please, pretty please make this dressing for your family and just wait for the "yums" to ring out at your table.
Don't complain because you don't have these ingredients. At least tell me you have rice vinegar and soy sauce. Now, get yourself some sesame oil – good. Grapeseed oil – I'm pushing it – does it help that grapeseed oil doesn't burn in high heat?
You will grind a small onion – recipe calls for it to be sweet – I used a good 'ol brown onion.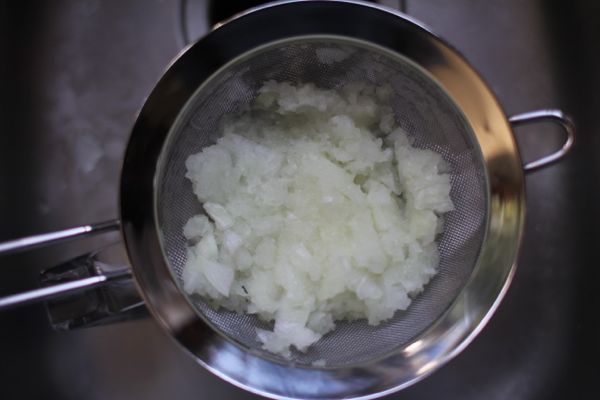 Drained onion prevents the dressing from becoming to oniony – fussiness pays off, I promise.
Guys, I'm trying to avoid sugar where I can, so I opted for a packet of stevia instead of the called-for teaspoon of sugar. You decide.
After a brief whisk, it's ready for tossing into the greens.
Best part, the only thing that needs to dress up all fancy is your salad.
grilled shiitake mushroom salad
preptime – 25 min (15 for dressing, 10 for grilling) servings 2 -4
4- 6 cups Salad greens (hearty to hold heavy mushrooms – use your favorite and what's most accessible) I prefer little gems which I know are hard to find, but romaine, green or red leaf lettuce also work.
8 oz. shiitake mushrooms
1 Tbsp fresh chives, chopped in 1/2″ segments (optional)
1/4 cup of Nobu Salad Dressing (below)
Remove stems from mushrooms and quarter or halve caps into substantial bites.
With the grill on high heat, sear the mushrooms on a grilling pan or aluminum foil. If you don't want to mess with a grill, a grill pan or even fry pan works fine. You want to sear, even char a tad, to seal in juices.
Combine slightly cooled mushrooms with greens and toss with dressing. Please eyeball & taste to your liking.
Top with chives and serve.
Nobu Salad Dressing
1 sweet onion coarsely chopped*
5 Tbsp, plus 1 tsp Japanese soy sauce (I used regular soy sauce)
1/4 cup plus 2 tsp rice vinegar
4 tsp water
1 tsp sugar
1 pinch fine sea salt
1/2 tsp dry mustard
1 pinch freshly ground pepper
2 Tbsp plus 2 tsp grapeseed oil
2 Tbsp plus 2 tsp toasted sesame oil
Pulse onion in a food processor until finely chopped. Transfer to a fine strainer, set over a small bowl and let drain. To speed up the process, tamp out the juice.
Place 3 Tbsp. drained onion, soy sauce, vinegar, water, sugar, salt, mustard, and pepper in a bowl and whisk until sugar and salt are dissolved and mixture is combined. Whisk in oils until combined.
*Notes:
You will only need 3 Tbsp of the onion, but when pulverized and drained, it reduces down – use remaining onion pulp in your next cooked dish.
Grapeseed oil has a distinctive taste and great for high heat cooking and can be found at Whole Foods or other specialty stores, but if you cannot find it, use the lightest oil you have in the house.
Sesame oil – this oil is found at most major supermarkets in the Asian food section. I urge you to bring home a little bottle to splash into dressings and stir fries.
crunchtimewarp:
Make dressing ahead of time.
Use packaged greens and precut mushrooms (buttons work fine)
recipe adapted from Nobu: The Cookbook and provided by your friends at crunchtimefood.com